What is TopLayer?
TopLayer is software that allows for seamless integration of 3rd party applications.

What does this mean?

This means that when you use "outside vendor software" such as loan applications, on your web site, without the help of TopLayer, the look and feel of that software is normally generic, and could look nothing like the rest of your web site. The web address your customers are directed to is usually not even yours! The result is an experience that is less than ideal and often times leads members to think they've landed on the wrong site, or even worse, a scammer site.

TopLayer will solve this issue by a simple installation and configuration of our software. Once installed and configured, TopLayer will seamlessly integrate your look and feel with all of your 3rd party applications!

What about updates? What happens when you make changes and updates to your web site?

Once TopLayer has been installed and configured, you don't have to worry about making changes to your web site. TopLayer will continue to pull information from your 3rd party application and integrate it into your new look and feel, and even new navigation! Save time and resources by letting TopLayer do the work, allowing your marketing or IT department to focus on more important things.


Easy Configuration
You choose your installation needs:
WEtap Media installation or implementation partner - for those who prefer a complete turn key solution.
Easy installation can be done by your own IT department, with 24/7 support by WETap Media and our TopLayer implementation partners! Online training materials make installation easy with step-by-step instructions.
Installation and configuration takes 2 to 4 weeks.
See Us In Action!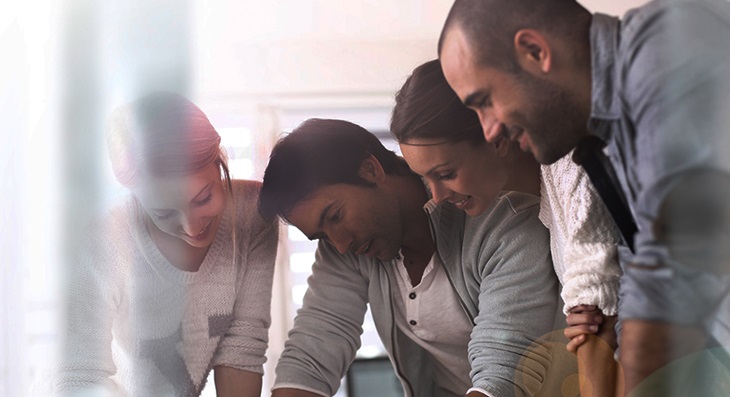 TopLayer helped Rivermark Community Credit Union in Portland, Oregon seamlessly integrate their 3rd party mortgage application into their existing web site. Installation and configuration took two weeks. Rivermark decided to use their own IT staff to perform the installation with guidance from the WETap Media team. The process was simple and extremely efficient. Take a look at their results below!

Rivermark Community Credit Union's Online Lending Form - before using TopLayer: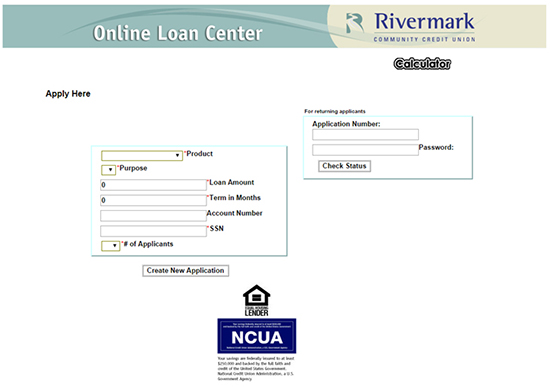 Rivermark Community Credit Union's Online Lending Form - after using TopLayer: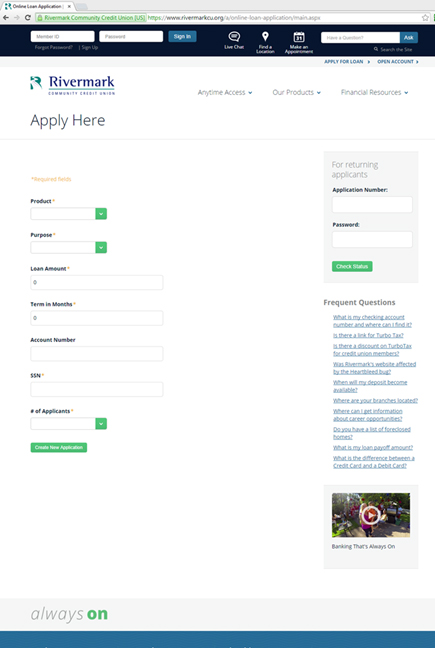 TopLayer let's you take full control of 3rd party applications.
100% match your web site's look and feel (because it uses your web site markup and CSS)
Built so you don't have to be a .Net developer to use TopLayer. Your web marketing resource can use the tool.
HTML, JavaScript, CSS, and XSLT skills are all that is required
Update your CSS and have it instantly apply to the 3rd party vendor applications.
Change your navigation and have it show up instantly.
Be able to cross sell products within 3rd party applications
Have your 3rd party applications work within the comfort of your web site.
You'll never have to send look and feel updates to 3rd party vendors again.
No more 3rd party URLs showing when members use the 3rd party applications. The only web address that will show is your institution's web address!
Clients will always see your secure domain name, and know for certain they are safe from phishing scams.
Guaranteed to work with all 3rd party vendors, including all the online loan applications, new member and new account create applications.